Solid Waste & Recycling Collection Reminder

Beginning April 1, 2018, new procedures for solid waste and recycling collections, click here.




Department of Public Works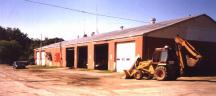 The Village of Ilion Department of Public Works maintains some 32 miles of village streets and roadways, performing regular and preventative maintenance activities including;
Storm & sanitary cleaning & repair
Snow plowing, removal and ice control requirements
Roadway repair (patching and paving projects)
Field and park maintenance
Assistance with Marina grounds upkeep
Central Mall area upkeep
other infrastructure repairs as needed
From early spring to late fall each year, the Department operates one full-time shift.
From mid-November to early spring, the Department is staffed with three shifts covering 24 hours daily.




Village of Ilion Sanitation

Trash collection is performed by an outside contractor through the "pay as you go" bag purchase system.In July 2011 the Oneida Herkimer Soild Waste Authority (OHSWA) announced a new program entitled "Recycleone." The Village of Ilion has signed a new contract with Spohn's Disposal. There have been some changes in the route pick-ups, a map & information about the Village of Ilion guidelines for soild waste, green waste and recycling are available by clicking here . For additional information on the "recycleone" program or other questions you may also go to the OHSWA website at: http://ohswa.org/. The current outside contractor is Spohn's Disposal.
The Village of Ilion began green waste pickup starting on April 1, 2018. All residents are asked to put the green waste into dumpable containers. Pickups will be on Mondays only. Green waste pickup will end on November 12, 2018.