Municipal Electric Utility Department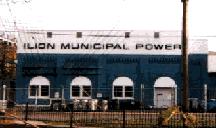 The Village of Ilion Electric Department serves over 3000 households and is regulated by the New York Department of Public Service. The municipal utility first provided electrical services on December 11, 1900.
Basic Monthly Customer Charge
For consumer complaints that cannot be resolved with the Village of Ilion, you may contact the New York Department of Public Service (DPS). DPS complaints may be directed as follows:
Website: www.dps.ny.gov/complaints
Phone: DPS HOTLINE at 1-800-342-3355 (M-T 7:30AM-7:30PM, F 7:30AM-7:00PM)
Mail: Office of Consumer Services, NYS Department of Public Service, 3 Empire State Plaza, Albany, NY 12223
Budget payment plans are available.
Electric charges are billed monthly
New customer security fee(s) may apply.